Site Home : Materialism : One Article

---
The first person who, having fenced off a plot of ground, took it into his head to say this is mine and found people simple enough to believe him, was the true founder of civil society.
-- The First and Second Discourses, Jean-Jacques Rousseau
"I need a big two-bedroom apartment that will accept my dog within crutching distance of Harvard Yard," I told the realtor. "I'm prepared to pay $2000/month if I have to". "$2000/month, dog, hmm... you might be better off buying," noted the realtor. This took me back to 1981. Graduate microeconomics at MIT. I was the youngest student in the class. Sitting next to me was Gerard McCullough, the oldest student. Gerard had been a reporter at the Philadelphia Inquirer, covering the Carter presidential campaign. Jimmy Carter had taken a liking to him and made him a deputy Undersecretary of Transportation. After Carter got the boot, Gerard decided to come to MIT to actually learn what he had needed to do his job.

The class hadn't really started but Gerard already had his notebook on the chair-desk and one of those huge fountain pens that you use for signing treaties. It was leaking black ink all over the notebook and Gerard's pants. He stared at it, stunned: "This is a $175 pen." I lent him one of my BICs and we ended up becoming good friends. We used to drive around Cambridge in Gerard's Fiat 134. This wasn't as boxy as the more popular 128, but it was even less reliable. I commented on the decrepitude of the vehicle. "Philip, I want you to promise that if I ever get a Saab with a 'No Radio' sign in the window that you'll shoot me."

That's how I felt about buying a condo. I lived with my grandfather. When I traveled, I lived in my minivan and slept in a tent. I spent an entire summer in Los Alamos living in the forest. Condo ownership seemed too grown-up, too self-indulgent, too yuppie.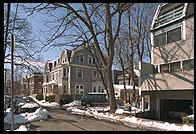 Nonetheless, the rentals were mostly expensive and repulsive. I was going to have to buy if I wanted something that I could tolerate. The realtor showed me a couple of places in big buildings and then 5 Irving Terrace, #3. Irving Terrace is almost the perfect street for me. Cambridge and Kirkland streets converge on the back side of Harvard Yard. The block between them is taken up by a beautiful stone church and the rather badly designed Harvard Graduate School of Design. Running between Cambridge and Kirkland are Sumner and Irving Streets. These are moderately trafficked. Running between Sumner and Irving is the almost completely untrafficked Irving Terrace.
Unit 3 is the top floor of what the realtors describe as "a charming Victorian mansion." In Bethesda, Maryland where I grew up, this would have been called "a crumbling wooden wreck that we're going to tear down next week." It used to be rent-controlled so the previous owner was able to buy it for $60,000 in 1980. He put $20,000 into it, sort of renovating the kitchen and two bathrooms, but leaving odd notes such as an old range and blue toilet. Also, instead of yuppie-heaven hardwood floors, the place was broken-up pine floors overlaid with office-building carpet.
One area where this condo couldn't be faulted was space and layout. The 1500 square feet includes two big bedrooms, a longish living room, and then two connected smaller rooms that could be a dining room or a small office. There is also a strange little loft above the living room. Finally, the unit comes with a parking spot in the driveway, a storage room in the basement, and a brick patio right next to the driveway.
The existing owner had moved out in October, 1995 and put the unit on the market at $337,000. The broker said that he was newly married and had moved in with his wife. He'd cut the price to $299,000 by June, 1996 so that was the price when I went to look in mid-July. Nobody had ever made any kind of offer on the property. I bought my friend Hillary over. She's a professional real estate appraiser who works for a mortgage company: "It's worth 270; offer him 250." Hillary is intelligent, attractive, well-built, and 6'1" tall. One doesn't argue with Hillary. Nonetheless, I ventured "Hillary, this guy isn't going to take 250. I have a complete model of what he is like. First, he is greedy. He's greedy because he put a place on the market for $337k that is only worth $270k. Second, he is rich. Only a rich person could afford to let a $270k asset sit for a year. He doesn't really care about the money; he just wants to be able to tell his friends that 'I bought this place for $60k and then sold it to some foreign idiot for $337k.' He will neglect to add that he had to leave it vacant for 5 years to get the price, but so what. It is all ego. This is America. We think people are smart because they are rich. Look at Ross Perot and Bill Gates. Rich people reinforce their impression of themselves as geniuses by trying to cheat everyone else. Anyway, the owner doesn't need to sell it because he just married a rich lawyer who has a huge house in Newton and he is living with her."
I made an offer for $262.5k. He countered at $289k. I upped my offer to $267. Through the realtors, he countered at $275 and said that was his final offer. On Saturday evening, the owner actually called me. Since he is rich and would be humiliated if the whole Net knew that he didn't manage to sell the place for twice what it was worth, we'll call him "John". What I'd heard from the two brokers wasn't enough to contradict the elaborate portrait I'd drawn from my imagination. But here was a real person. We met at the unit on Sunday and talked for an hour in the living room. It transpired that he was a computer programmer just like me. He was the author of some popular Macintosh software. So I was right about him being rich, but he wasn't exactly the scum-sucking yuppie I'd expected to hate. John and I then went out into the street where we ran into some neighbors: the woman across the street and her 5-year-old Golden Retriever; the downstairs unit owners who were planning to adopt a Malamute puppy in September. We stood in the middle of the street for 15 minutes on this glorious sunny day and not a single car came by to push us out of the way. Perfect.
I walked back toward Harvard Yard. The house is half a block from a little park behind the Harvard Graduate School of Design. I let Alex off the leash. We crossed one busy street and then were alongside Memorial Hall (mentioned in Henry James's The Bostonians) heading into the Yard. Perfect.
I loved the place. It would have been nice to have hardwood floors. It would have been nice to be on the first floor after my operations when I'm stuck on crutches. It would have been nice to have a little yard connected to the house so that Alex could go out and pee unattended in January. Nonetheless, I knew that anything else this close to the Yard was going to be on a much busier street and just as expensive.
I didn't want to overpay, though. I might actually graduate and get offered a professorship in California. I didn't want to sit on a condo for a year hoping for a sucker to materialize. So I said, "$267k or I'm moving in with my friend Richard in his Brookline mansion. You have to decide soon because my Aunt Marge rented my old place to some Hungarians for September 1."
John was unconvinced. $275k was his bottom line. Realtors had persuaded him that he could invest a little more money in the place, maybe drop down a new carpet, and get the full $299k or close to it. I started making plans to move into Richard's house. I had, er, neglected to tell John that Richard was planning on ripping out all the walls in his house and installing air conditioning ducts. Nor did I mention that sometimes Richard takes things apart faster than he puts them back together. So I had some mixed feelings about moving in with Richard even if he has been a good friend since 1982.
At this point John called Hillary. She apparently gave him a dose of reality because 24 hours later he accepted $268.5k fairly graciously. The brokers couldn't meet us so we closed the deal alone in a conference room in Harvard Square. We were both wearing shorts and T-shirts.
When I got back home to Melrose every piece of furniture looked different. My sofa, purchased in 1982 out in Palo Alto, had previously seemed very comfortable. It was the site of my recuperation from surgery, the focus of dozens of parties, the cradle and grave of a few love affairs. Now it was just $275 of crane time to hoist it into 5 Irving Terrace #3. My 2000 LP records and 9 bookshelves of books made me glower. The five Steelcase lateral files filled with negatives and slides were particularly worrisome. I began to throw stuff out. I filled my minivan three times and emptied it at Goodwill. I created a minivan-sized pile of trash in my driveway. Still, I felt oppressed by the remaining stuff and it all looked far too shabby to reside in a $268,500 condo.
I called moving companies. I had previously found only one way to make sure that a telephone call was not returned: ask a woman for a date with the opening line "I am a graduate student." Now I know another: call a moving company in Boston and say "I would like to move on September 1".
All the companies my friends recommended laughed. My Aunt Marge was up from New Jersey and she worked the Yellow Pages tirelessly. Cosmo from R.C. Mason showed up. It was a big firm with 65 trucks, an Atlas Van Lines agent. No problem to move on August 29. I'd need 300 small boxes, 9 wardrobes, 50 medium boxes, 50 mirror crates for my pictures, and a 10 dish barrels. Interstate Commerce Commission rules allow boxes to be used for two moves. He could get me all the boxes secondhand for $212 delivered (another company had quoted me $800 for new boxes). If I wanted them to pack, it would be $3800 and they couldn't do it the last week of August. The move itself would require four men and a 30-foot truck for ten hours. Total cost: $1500.
After building a Microsoft Excel spreadsheet comparing the net present value of $3800 on August 29 to the cost of potato chips and Coke, I decided to invite my friends to a packing party. My Aunt Marge was scornful. "Your friends abandoned you a week after your surgery. They're never going to come out here and slave away packing up all that junk. You have to get Mason to do it."
Twelve people showed up on Saturday. Not all at once, but enough so that we had an average of 6 people from 9 am to 8 pm. Packing was done under a "if you like anything, take it" policy. Olin got the most booty: a tube power amp, an air conditioner, and most of the windowsill to which the air conditioner had been attached ("Tell the Hungarians that all the really nice houses in America have these custom cut-out windowsills. So much less boring that the standard straight ones"). Several people tried to claim Alex under this policy but I said that he was non-negotiable. We got more than 90% of the house packed before going into downtown Melrose for a lobster dinner at Turner's, a fabulous restaurant marred only by its proximity to Starbucks.
And then you need a lawyer
With most of my possessions nestled in wrapping paper, my thoughts turned to the closing and therefore lawyers.

Nolo Press publishes dozens of legal self-help books. According to Nolo, you can get yourself a patent, represent yourself in court, prepare your own will, and do many other things. However, you apparently can't close a real estate transaction without a local attorney. According to my sister down in Maryland, the lawyers there will all do a closing for $99 because they are scamming up a fat commission on your title insurance.

I called John Moos (pronounced "moose") at (617) 494-8808. He knew the street and the couple downstairs. He wanted $850-1400 to do the closing. Then there was another charge of $1000 for title insurance and searching. I asked "is it so much more expensive the lawyers here aren't pocketing a kickback from the title insurance companies?" He said "Oh no. Lawyers here get the same kickback, but we also charge you $1000 on top of everything else." I called a couple of other lawyers and they all sang a similar tune so I hired Moos.

I'd hired a building inspector the day after John and I came to terms. For $195 I learned that the garbage disposal didn't work, that two windowpanes were cracked (though I only ever was able to find one), and that an electrical outlet was wired with reverse polarity. John agreed to fix the outlet, disposal, and cracked pane.

John told me he'd bought the disposal in 1991 for $135. It had a five year warranty that had just lapsed. Did he say "This machine ground up garbage for me and my ex-wife at an average cost of $25/year. I think I got my money's worth?" No. Nobody ever got rich who didn't believe that a $135 product should grind up his garbage until he is dead and buried. So rather than swell out the balance sheet of the In-Sink-Erator company with an extravagant replacement, John decided to attempt a component-level repair of the 5-year-old device. This involved a 45-minute drive out Route 2 to the parts warehouse where a $22 switch was obtained. John related his shock and horror upon finding that some old threads had been destroyed by five years of use. So he had to go to the hardware store and get a correctly sized tap. He then proceeded to tap new threads into the venerable ISE 17 and install the $22 switch. Following this repair, the disposer would turn on if you were very clever about turning the stopper/switch at exactly the correct angle. It made a screeching noise that sounded like an F14 striking the ramp of an aircraft carrier, a nice complement to the bathroom fans which both sounded like F14s taking off.

Emptied of some remarkably nondescript furniture and equipped with a disposal sure to last at least another month or two, the unit was ready for closing. So we all met in Moos's East Cambridge office. John and I were clad in matching black T-shirts and shorts. The brokers, two well-kept older women with high-end outfits, hair and makeup, rolled up in a new Mercedes and proceeded to admire Moos's quilts and furniture. John found a $10 error against me in the final docs and then remembered to extract a $100 check from me for the three rickety kitchen stools (I'd figured they were included with the unit but apparently not). John signed some affidavits. He swore that there wasn't any UREA formaldehyde insulation in the unit. He swore that he wasn't the person with his name who had declared personal bankruptcy in Massachusetts a few years before. I swore that I'd been told about all the lead paint in the house.

John signed a deed conveying the title to me and I signed over a $243,819.85 bank check to "John Moos." He was going to pay everyone else out of his escrow fund at 1 pm the next day. It occurred to me that there was really nothing stopping him from depositing it in his personal checking account, unplugging his Quadra 610, and taking the next flight to Rio. Sometimes I guess you have to trust people, even lawyers...
The Move
While I visited friends in Seattle, the floor guys ripped up the carpet, put down 1/4" of cork, laid plywood over that, and then nailed glorious yuppie-heaven red oak to the plywood. Eight huge guys from DeathWish Piano Movers (whose owner drives a Taurus with the MA vanity plate DTHWSH) spent 13 hours moving me in on August 29. After several day of unpacking, I had the downstairs neighbors up for tea. I tried to educate Sam, their 9-year-old, in how to be a really cheap rich person by telling him the component-level repair of the garbage disposer story. It was supposed to end with a flourish and the F14-striking-the-ramp noise but it turned out that the machine wouldn't start at all.
Right after the Move
Here's my old furniture and dog in the new space (snapshots with my Canon 14mm wide angle lens).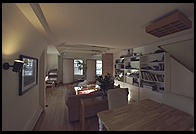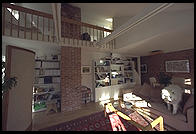 ---
Text and pictures copyright 1996 Philip Greenspun
---
philg@mit.edu
Reader's Comments
You know, at first I was really enjoying your page, thinking "hmm.. there is some insight here. And its a whiteboy giving this anti-Gatez sentiment, and he even lives in the Northeast." I nodded my head in solidarity to your anti-Gatez, anti-mega-corporation hot air, and briefly had a tiny spark of hope within me for middle-class colleged whites and the general populous of this country, thinking, perhaps racial stereotypes are just that - stereotypes.

And then... you became everything you were at first berating. Look in the mirror, my friend. You are the "yuppie scum" you speak of. Enjoy your meaningless life of material collection, your yuppie condo, and your hot-macho car or European sedan. Hmm... maybe you'll find a modestly attractive, practical, young white bride, have a few kids, and then die, your children meanwhile having completed your meaningless cycle.

USA #1!

-- cattle #3432477, September 24, 1998
F-14's... been there.
~M.Kelly

-- Matthew E. Kelly, February 26, 1999
I recently had my garbage disposal blow up too. It looked about as old as the house and had obviosly been installed wrong. I drove to sears. They had a 1.5 horsepower monster on display at the front of the isle for 139.95, but I didn't think I'd be able to carry it out to the car by my self. I got the 1/3 hp kenmore for 39.95 from the bottom shelf and installed it in about 45 minutes. It's much quieter than the old beast, and sounds sort of like the trash compressor on a garbage truck. Very nice.

-- David Tarulli, March 15, 1999
I live in New York. Garbage disposals are illegal here. Now I know I'm not missing much.

-- Frank Wortner, March 17, 1999
I have always rented furnished apartments, and am now saddened by the fact that my worldly possessions will no longer fit in my Olds Cutlass Supreme.

-- Kris Willoughby, May 26, 1999
Phil, your writing, as usual, is interesting even though I'm bored by the subject matter. I'm once again alarmed by the clash of tone/attitudes and the reality, that is, the CASH you have available. As the first rather venomous fellow wrote in this string, several minivans full of stuff and the purchase of a 1/4 mil house squash a lot of my respect. It's a neat trick, though; create an incredible identity (compassionate, resourceful, intelligent) and then tear it down with extensive bursts of self-pity/-indulgence. You're a lit. follower, from some of your other scribblings...check out Russell Banks' "Continental Drift."

-- Lyn Lord, June 10, 1999
I think I've been outdone. Last week I bought a $AU41,500 house 10 mins from the city that *is* being pulled down soon. It came with an outdoor toilet and a tree in the roof ...

-- Robyn Stanley, July 26, 1999
I'm rather saddened by all the hostile comments I see on this page. Phillip Greenspun has done rather well for himself, and I'm always pleased to see that, but I don't think that affects his merits as a person one way or the other. He's very generous with the knowledge and software expertise he pours into his web sites, and I would bet they haven't shown much in the way of financial return. I think he calls himself a scum-sucking yuppie materialist as a way of self-satire, and I find it rather amusing.

For another look at the real estate world, see David's Dream House, an exploration into the world of cut-rate (or theoretically cut-rate) real estate in the Los Angeles area.

-- David H Dennis, August 28, 1999
I recently moved to a newer apartment away from all the noise of the inner city. The total cost of moving was $60 and that was for the U-HAUL. Well the two not so bad things about the move was that my wife and I were the One Man his Wife and a U-HAUL, and secondly the move took about 5 days. We only had to move about 15 miles away. The good thing Is that we got rid of a lot of junk, and we did not have to worry about any of our stuff being stolen by movers. We moved the day after thanksgiving, and could not get a U-HAUL until 5 pm that evening. We did not think we had to reserve a U-HAUL prior to moving the day after thanksgiving, but surprisingly everybody else in the city that was planning to move, moved on that day. So advice is dont move the day after thanksgiving unless you believe you need to work off all that turkey you ate the day before. Well I wonder if Phil was more worried about losing one or several of his LP records or losing an MIT text during the move. Anyway moving can be tiresome but I would rather do it myself than pay $500 for some guys to dump my property in the middle of the floor at my new home. ..

-- Arthur Pinkerton, December 12, 1999
I was in Harvard Square about two weeks ago and everyone there seemed miserable. Why didn't you get a place near Fanuel Hall? It was full of cheerful materialists.

My own perspective is that freedom is inversely proportional to number, size, and cost of possesions. Having got rid of my house, my wife, my cat, my furniture and my car I feel now free to contemplate the infinite.

Of course, I am now unfortunately filling up my apartment with camera equipment, so will probably never achieve Zen. I seek instead the exact correct amount of underexposure for my slide film as the key that will unlock the secret of the universe.

-- Bill Mallin, January 13, 2000
Hey, are those magnapans?

-- Patrick Kelly, July 17, 2000
On the insinkerator web site, you can search for the "right disposer for you" where you can select how important quiet operation and long product life are to you. How thoughtful of them to produce the Badger 1 model for people who don't want quiet operation or long product life. "Hi, I'd like to return this disposer because it's too quiet, -and don't you have a model that will fail sooner?"

-- Mark Barnes, December 2, 2000
Actually, Nolo Press has a Real Estate Section now, so you can buy a house without a lawyer.

-- Guan Yang, March 17, 2001
I think the key to everything is moderation. When the pursuit of material objects and money becomes so great that one is willing to do anything (lie, cheat, steal, forced child labor etc.) it's over the top. There is a point where the amount of money a person has cannot even possibly be used for anything else but to enslave the people (i.e. Bill Gates being able to buy Romania, but not being able to utilize all of the assets personally). That is simply wrong.

In response to the quote from -- The First and Second Discourses, Jean-Jacques Rousseau: Animals were the first ones to mark out their territory... and they still do it by leaving urine trails... I believe Rousseau was right... humans are about as civil as animals sometimes. (sigh)... so much for M.I.T grads...

-- Ernest Citizen, July 18, 2001
GIVE me women, wine, and snuff

Untill I cry out "hold, enough!"

You may do so sans objection

Till the day of resurrection:

For, bless my beard, they aye shall be

My beloved Trinity.

John Keats

-- Muawiyah Askari, September 11, 2003
It's funny how all you people are jealous of Philip and can't give this brilliant MIT grad and teacher a hand. I think a job well done. BTW he didn't ask for you to read his article on buying his new home. So if you knew it was going to be a boring topic. LEAVE :)

-- Paul Batalla, January 9, 2004
Add a comment
Related Links
Add a link