---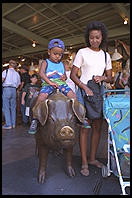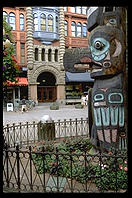 Wednesday, August 11
I picked up Joel at SeaTac Airport. Joel and I go back to 1979, when I was an unusually immature sophomore at MIT and he was an unusually mature senior. Joel's a physics professor at Berkeley now and has probably changed less than anyone else I knew at school.
Joel still stands 5' 10" high on his stocky legs, hides his face behind a black beard, and wears the "physics wardrobe" (flannel shirt with one tail untucked hanging over faded jeans). At 35, he holds the same vaguely liberal political views; he wasn't even radicalized when his Ph.D. project, a terrifying room-size free-electron laser, became a cornerstone of Reagan's Star Wars project. Joel hasn't changed his taste in reading, still turning to English literature and the New Yorker. Although encumbered by home ownership, he's never bought a TV, decent stereo, or much else.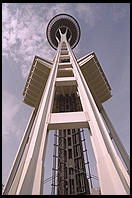 Joel was staying with Adi and Viola, two West German academics. We'd planned on going out for dinner, but Elke and her hostess Julie surprised us with a salmon feast.
Adi started off the conversation by waxing rhapsodic on how wonderful the Brave New World of computer software was. Joel, such a computer algebra wizard that his first date with a Harvard girl was helping her with Macsyma, looked amused.
"Where is the innovation? Macsyma was written by MIT graduate students 25 years ago and is still better than any of the new commercial computer algebra systems."
"Electrical engineers have been so innovative that a business can be run with $1000 of hardware, but commercial software is such a mess that they'll spend tens of thousands on adaptations, hand-holding, and baby-sitting," I piped up.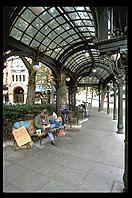 "Look at how wonderful Windows is," Adi gushed.
"The last real innovation in software was the spreadsheet," I noted. "Visicalc is more than 10 years old. A vintage 1980 Apple II could do word processing and spreadsheets, which is about all the average PC user can do today. Other supposedly new applications existed on big computers and are available to the masses today because hardware is cheaper, not because new kinds of software have been written."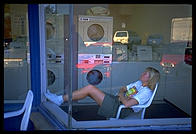 Adi moved the discussion over to politics. He and his liberal friends are delighted with Bill Clinton's first eight months. I pressed to find out what Clinton had done to make them so happy.
"Er... Well... Hmmm... Uh... He changed an administrative rule on abortion counseling; a woman can now be told about the availability of abortion by doctors at government-funded clinics."
After I stated my hope that the most powerful man in the world should be able to do something more substantial, Adi said, "You are really cynical about everything."
It stunned me for a minute. After a month in Alaska, I wasn't used to people making such quick character judgments. "Perhaps commercial software and politicians aren't the things about which I am most optimistic," I conceded.


Gratuitous Tourist Seattle Pictures


Thursday, August 12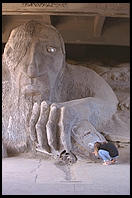 Rebecca and I had reversed roles. I used to have a real job and would take her out; she was in graduate school and would use my washing machine. Now I'm in graduate school and using her washing machine; she has a real job and took me out to breakfast.
The great tragedy of science and engineering right now is that there are 10 times as many Ph.D.s as academic jobs. I tried to convince Rebecca, currently doing research, to use her Ph.D. to get a teaching position.
"It doesn't matter where or what. The very act of standing in front of students a few hours a week and teaching them will give you the confidence to do good research and writing. That is why academics go so quickly from craven graduate students to awe-inspiring professors. Science and engineering research are inherently depressing. You spend all your time working on a problem confused. If you cease being confused, it means that you've solved the problem and move on to the next one. Thus, 99% of your time is spent in a state of confusion."
We parted warmly, even if our reunion underscored a friend's philosophy: "We need to see ex-girlfriends occasionally so that we remember why we aren't with them anymore."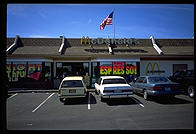 Joel and I pushed our way out of Seattle through a maze of espresso shops, upscale, downscale, sit-down, stand-up, walk-in, drive-through... even McDonald's serves the stuff. They were all full of ex-Angelenos enthusiastic about their new life here in the Northwest: "Yeah, man, I lived in L.A. for 40 years and was really aggressive; I've been here six months and have totally mellowed out."
L.A. is getting to be like Ireland: a place that can't sustain its population and is filling up the rest of the world with its emigrants. Come to think of it, an Irish-Angeleno would feel perfectly at home here: it rains all the time and the freeways are jammed.
One of the nice things about Boston is that the population hasn't grown since the highways were built. You'd think that, with a 10-lane highway punched right through the center of town, Seattle would have good transportation; you'd be thinking wrong. Seattle has the fourth worst traffic in the U.S. Traffic crawled for 20 miles out of town.
We rolled north through various ugly waterside industrial areas before finally turning off the highway to follow a lovely river valley into the heart of the Cascades. Like Going to the Sun Road in Glacier National Park, various highways into Yellowstone, and I-280 in San Francisco, Washington Route 20 claims to be "America's Most Scenic Highway." It pales a bit next to some of the other claimants, but it is a beautiful drive by any standard. One starts with farms and distant mountains and finishes with sharp granite peaks.
After camping in a half-empty national park campground and eating dinner, Joel and I lay on the ground and watched the meteor showers that had peaked the night before. The sky was absolutely dark. An impressive meteor cut through the sky every two minutes or so and often left a trail visible for seconds afterwards.
Friday, August 13
If you want to know how the Swedes manage to keep themselves in pickled fish and boring cars, stop by the brand-new North Cascades National Park visitors' center. Six $3000 Hasselblad medium-format projectors dissolve onto the center screen while New Age philosophy is drummed into one's head through the sound system. It is amazing how blandly acceptable New Age philosophy is to environmentalists worldwide, rather as Christianity would have been in Hester Prynne's New England.
Tibetan monk chants melted into a soothing voice-over.
"We are all star-born. The sun is our father; the earth is our mother. We are all one people striving toward harmony. Change is Nature's constant."
To complement the vagueness of the philosophy, no image was allowed to remain sharp on-screen for more than a fraction of a second. Almost all of the time two or three images were dissolving together, fuzzing up all of them. "Welcome back to Berkeley," I told Joel, who was looking visibly nauseated.
Following a ranger's suggestion, we biked from Colonial Creek campground to Ruby Creek, a distance of 8 miles. The first 1.5 miles was pretty tough, straight up an 800' hill to Diablo Lake Overlook. I started to kick myself in the parking lot--this would have been the right place to start. Hydroelectric power uglifies the landscape to some extent, but a series of dams makes 159,000 kilowatts of electricity and impounds two beautiful green lakes. My first thought was one of sorrow for wilderness subdued and lost. My second was that if civil engineers hadn't cut this highway into the mountainside, it would have been pretty tough to see the scenery from a bike.
The two most destructive forces in the universe are man's desire to be with woman and the automobile; disaster is certain when the two are combined. I plucked my bike from the safety of the minivan to admit Alison, Elke, and Jo-Anne. There is in fact no good way to carry bikes outside a minivan. Roof racks whistle, put the bikes out of reach, and invariably result in a collision with an overhanging branch, bridge, or building. My brilliant solution was a $290 folding trailer hitch rack. My bike hadn't been on it more than a week before some unfelt impact had bent its big chainring. I couldn't use half my gears so I turned back to get the car; Joel went on another 30 miles to conquer 5,500' Washington Pass.
Experienced bike tourists know that prevailing winds dictate the right way to travel in North America: west to east and north to south. Going east to west in the Cascades meant fighting a 30 mph headwind today. Most of it was downhill, but oftentimes the wind reduced my speed to a crawl. Dropping down that last 800' hill gave me some speed that the wind couldn't kill; I hit 47 mph despite touching the brakes a bit.
As Joel sweated his way up the pass, I walked to Rainy Lake under cloudless skies. The easy trail winds its way through primeval forest to yet another eerily glowing glacier-fed lake. This one is especially pretty because a 500' waterfall plunges into the far side and the whole lake sits in a bowl surrounded by steep faces.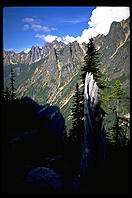 At the Washington Pass Overlook, I spent a fair amount of time taking pictures of wind-gnarled trees with the Cascades receding into the background and a plunging valley below. I picked up a chilled and tired Joel at the Lone Fir campground, and we drove on to Winthrop. This town was founded in the 1890s by a Harvard man, named for a Yale graduate, and is a tourist trap to be proud of today. It has more of an Old West feel than any place I visited in Alaska. We talked our way into the last campsite in Pearrygin Lake State Park, which was packed with boaters and families. Joel borrowed a pot from the happy extended family next door and came back confused.
"They don't seem well educated, yet they have four motor homes and a $6000 Jet-Ski."
The only people Joel sees either have Ph.D.s or are homeless. His vision of America is the standard left-wing one: the economy is profoundly unfair, the middle class is nonexistent, less than half the population has health insurance, and only a few people have enough money to secure material comfort anymore.
87% of the American population in 1993 was covered by some kind of insurance, including Medicaid and Medicare.
"Joel, this is America. We are rich. These people have been working since they were 18 or 22. A house costs $80,000 where they live; they don't spend money on exotic restaurants; they don't fly to Europe every year. You aren't part of the financial elite, Joel. In fact, virtually every California public schoolteacher your age makes more than you do."
Saturday, August 14
Eastern Washington is amazingly dry. We drove for three hours down a river valley flanked by barren hills, which would be described as "brown" by most Easterners and "golden" by Californians. We saw enough irrigated apple orchards to understand Washington State's claim to being the apple capital of the U.S. The most interesting thing about these orchards is how frost is averted. Huge wind machines dot the orchards, each one powered by a big electric or propane motor. When frost threatens, these are fired up and somehow the breeze prevents frost from forming.
We reached Wenatchee (pop. 40,000) around noon. It was the first real town we'd seen since the Interstate, where "real" in America is defined by having a McDonald's and 24-hour supermarket. While we shopped, someone stole the water bottles off my bike. I was sorry to see my bike further crippled and sorrier to have been a crime victim, but it struck me that this pilferage wasn't bad considering that I'd been traveling for months with $1000 of possessions in a canvas roof pouch.
Joel and I toured Wenatchee bike shops in search of a Shimano SG 46-tooth chainring. Jamie, a pleasant 17-year-old lifelong Wenatcheean, had the right part and proposed to replace it while Joel and I lunched.
"Just damned good food," the local diner's sign promised, but our counterman gave us a bonus lesson on how the town was being ruined by Mexicans.
"We give these people free education, health care, and college education. But we won't do anything for a homeless American. `Get a job, you bum,' is all we have for them."
That day's Wenatchee newspaper carried the same sentiment from California Governor Pete Wilson: "Illegal aliens are stealing $2.3 billion a year in services from the people of this state."
In addition to the message of international understanding, we learned that Wenatchee has more police per capita than just about any other town in the U.S. There are federal, state, city, and county police from various overlapping jurisdictions. "This is in between Spokane and Seattle so a lot of drugs come through here," explained the counterman.
Back at Jamie's repair shop, I got the bad news that it wasn't my $20 chainring, it was my $90 crankset. A comedy of errors ensued that consumed a couple more hours, but Jamie never charged me a cent for labor.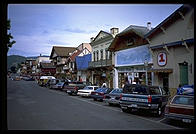 After a night in the Ottawa City Jail, the next logical step on the ladder was ... Leavenworth. Heavy overcast prevented the Cascade foothills approaching Leavenworth from being really scenic. However, the town itself was something one doesn't often see: a faithful replica of a Bavarian tourist trap town. Beautiful flowers hung in pots from every half-timbered building. Murals of German alpine scenes festooned the walls. Yes, there was even an Edelweiss Restaurant. Leavenworth lacked only Japanese tourists to be truly convincing.
The federal penitentiary is actually in Leavenworth, Kansas.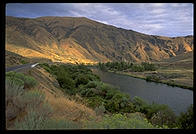 Highway 97 from Leavenworth to Ellensburg crests magnificent Swauk Pass (4,100') and then rolls downhill for miles. One of us should have done it on a bike, but we didn't see it coming. My AAA membership paid for itself a little later. Instead of taking I-82 down to Yakima , I noticed little scenic dots on the parallel Washington 821. This turned out to be a magnificent road through Yakima canyon. Golden hills rose up from each side of a swift river. The flat road, gently rolling downhill, tailwind (we're going north to south here), and sparse traffic made this irresistible to Joel. He got on his bike and pounded out 16 miles while I went ahead in the car, stopping to write or photograph occasionally. Even the weather cooperated, with the clouds parting just enough to let the sun splash some of the hills.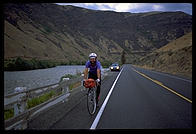 If the preceding paragraph doesn't sell you on the scenic route, consider the fact that the Interstate goes right through Yakima Training Range where your vehicle may contribute to our nation's security by serving as a weapons testing target. The Interstate also gets you closer to the Department of Energy's Hanford Reservation. Once proud manufacturers of H-bombs, the Hanford folks are now rather ashamed of contaminating eastern Washington and its residents with radiation.
As the sun was just setting, we passed up the urban scene in Yakima to press west to Naches. The glorious death of the day outside contrasted rather sharply with the interior scene. Joel removed his biking tights and parked his sweat-soaked underwear-clad butt directly on the upholstery. Then he cranked the ventilation system in hopes of blow-drying his nether regions. I wanted to puke.
Sunday, August 15
AAA's little black dots barely did justice to the glory of Washington 410. This is a miniature version of Glacier's Going to the Sun Highway despite making no claims of any kind for scenic beauty. I deposited Joel just before Chinook Pass and quickly became envious that it wasn't me riding. The descent from the pass is probably one of the best bike rides anywhere in the world. One wouldn't have to pedal for 10 miles or so while being entertained by fabulous Cascades scenery. Mt. Rainier's glacier-covered flanks loom in the distance when the clouds clear; this baby is 14,410' high, the fifth highest peak in the Lower 48. Without any high neighbors, it is much more distinctive than California's 14,495' Mt. Whitney, our highest.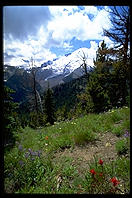 After driving up 4000' or so to the Mt. Rainier National Park visitors' center, I walked to Glacier Overlook. While Joel was thinking how I'd martyred myself and let him enjoy the bike ride, I enjoyed one of the nicest hikes of my life. Wildflowers in all the meadows exploded in a riot of blue, purple, red, and yellow. Mt. Rainier cooperated fully with my hike, brushing away its veil of clouds just as I left the visitors' center.
Full sunshine made walking a bit hot, and I was glad to stop 1.3 miles from the parking lot at Glacier Overlook. I shared a fabulous view down the river valley and over to Mt. Rainier with Marty, a schoolteacher from Seattle; Adrianne, his Jewish lawyer girlfriend; Robert, a rugged friend of theirs; and his charming twin daughters. I commented to them that in my peregrinations through North America, among the happiest people I'd met were schoolteachers. They are the only large group in the U.S. with both the free time and money to indulge in real travel. Marty agreed that "most people have one or the other." He teaches his middle school children that they should expect to change careers five times in their lives, extrapolating from the current average of three.
Naomi and Marie asked about my life in Boston, and at the end, one of them stated simply, "You're really interesting to talk to." I repaid the guileless kindness of these 12-year-old twins by eating their Fritos and drinking their water.
A cloud rolled in and covered the trail for my return voyage, but two deer quietly sitting by the trail more than made up for the lack of sun.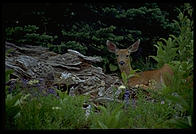 By the time I got back to the parking lot, the fog was so thick that I couldn't see the snack bar 50' away. Joel was already there, looking pretty good for a man who'd conquered the hill.
Joel is a much more patient person than I am, not that he should be proud of that distinction, which is rather like being a dwarf among midgets. Nonetheless, as we wound our way through fog-shrouded overlooks and depressed little towns, it struck me how comparatively poor were his skills in appreciating the backwaters of America. He had a hard time avoiding greasy food and shaking his condescension toward unambitious small-towners. Even if one can hide it in one's voice, it isn't possible to get to know people for whom one hasn't a genuine respect.
Going to public school for 10 years was like swimming in molasses. My mind couldn't breathe or move. I regret my stunted brain, but looking at Joel I appreciated that the worst legacy of public school was my conviction that I was a genius.
Factory schools necessarily give all students identical straightforward assignments. It is inevitable that some students will take a bit longer to complete these assignments and become discouraged. Students who are slightly quicker than average are in some ways just as unfortunate. Like Don Quixote triumphing over the herd of sheep, they come to believe that they are great intellectuals as they polish off the trivial assignments of the factory school. Unfortunately, the school writes checks that the world won't cash. Real-world problems don't present themselves in neat packages and not everyone can learn to think in new ways at age 18 or 22. Even worse, someone who is convinced he is superior to the rest of the human race is likely to be robbed of contact with his fellow man.
Freshman physics at MIT gave me my comeuppance. Every week I stared at a whole sheet of problems that I was sure I could never solve even if I lived to be 100. I'd never learned how to work on a problem for more than 10 seconds so I was stuck with a knotted stomach and a panicked brain. Fourteen years of struggle with these kinds of problems in and around MIT taught me, by imperceptible steps, that I wasn't actually better than the average person. If a slight increase in the difficulty of the problems rendered me just as helpless as those poor souls in junior high, then who was I to hold myself above anyone? Without consciously trying to do anything differently, I found myself able to have real conversations with people from all walks of life.
I decided to look at my students next semester at MIT and try to figure out if they were learning this valuable lesson. I also decided to try to figure out if the lesson was worth $27,000/year.
Monday, August 16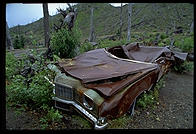 We felt our way up toward Windy Ridge through thick fog and a palpable devastation. Mt. St. Helens erupted in 1980--13 years ago. Purple wildflowers grew over the graves of thousands of trees blown down by the blast. Joel-the-hypernerd wondered why they hadn't all broken off at the base as one might expect for a uniformly strong trunk pressed sideways by a uniformly applied force. I conjectured that neighboring trees shielded each individual tree to some extent, especially around the bottom. Joel's spirit of inquiry must keep him from ever getting really bored, even if it is death in a singles' bar.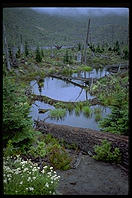 "No shoulder. Vertical edge," read the sign but it should have added that this wasn't one of the 12 sunny days they've had here this summer. Steady drizzle and fog made the 80 winding civilization-free miles to Cougar extremely wearing. Washington State is remarkably desolate. We had driven 52 miles on a heavily traveled national forest road without encountering a gas station; one can't do that on the Alaska Highway. Washington is more backward than Alaska in other ways as well. Some folks here have never been out of their hometown. Virtually everyone living in the backcountry of Alaska has at least a dim memory of somewhere else.
We reached the Interstate and Burgerville, a McDonald's clone that operates only in the Northwest ("Inconveniently located for most of America"). Their menu board lists the number of "Northwest Newcomers." So far this year 86,868 people have immigrated into Oregon and Washington, supposedly because they can't live without Burgerville.
True love is driving 14 hours from Berkeley to Portland to pick up your boyfriend. We met Denise, Joel's girlfriend, at her sister's house at 3:00 PM. I was in a state of shock from six hours of driving either through fog on mountain roads or on an overloaded I-5. Denise's sister had just walked in after two months away to find her life in disarray; my signature bull-in-a-china-shop style of arrival didn't soothe her. Denise was in an ugly mood because she'd just driven 14 hours with a carful of stuff that Joel and I requested but didn't need. A dark cloud seemed to hang over the house.
After reorganizing my van to accommodate Denise, we set sail for the Oregon coast through Portland's rush hour. Kazuyo had sat primly in a space she'd made for herself between cooler and cameras; male hitchhikers had generally sprawled out over the miscellaneous stuff; Elke had molded herself into the backseat like a cat. Denise tossed the cooler into her sister's backyard, hurled the rest of my stuff into the back, then presided over the newly created throne like a queen.
"Did you ever drive a school bus?" Denise asked. "Because the way this thing is wallowing over the road, I assume you must have."
We were going 65 through beautiful farm country down to Tillamook, but hostility continued to emanate from the back seat.
"Can't you get this bus moving any faster? ... When was the last time you guys took a shower? It is much nicer to be backpacking because then you aren't crammed into a small car with a bunch of smelly people."
Denise defies categorization, but I'd start with this: a charter member of the "men: can't live with `em, can't shoot `em" Berkeley school of feminism. Joel and Denise comprise a virtually complete set of the world's knowledge. Joel knows physics; Denise knows everything else. She knows biology, nutrition, philosophy, literature, politics, history, and the price of tea in China. Although she isn't a lawyer, economist, or engineer, she regularly makes fools of all three in her court appearances on behalf of California's public utilities commission, which regulates utilities. She's studied at Berkeley and Harvard, but knows so much more than the run-of-the-mill credential-grubbers that it would be insulting to list her degrees next to her name.
Denise's tall athletic physique, comprehensive learning, and the lordly manner of one raised in the Bay Area make her probably the most formidable woman I know. The only thing that keeps Joel from being utterly crushed is his broad general knowledge and unshakable inner conviction that a woman does not have the right to criticize him.
I'd loved Denise the last time I'd visited Joel in Berkeley: "Joel, this girl is sexy, smart, lively, and caring. She's just what you need. Marry her." One should never underestimate the force of circumstance, however, and traveling puts as much of a strain on human relations as anything.
After two and a half months on the road, I'd learned how to be satisfied with much of what life threw my way. Joel had jetted out of his carefully controlled life at home into chaos. Thus with Joel, I'd ensured harmony simply by giving in to all of his requests. It cost me little and made him substantially happier. However, with Denise it wasn't enough to give in; one had to give in with the proper attitude.
Amid an atmosphere of tension and recrimination, we reached Cape Lookout State Park with its nice stretch of coastline and 250 superdeveloped campsites. We're talking free hot showers and today's Portland paper in a vending rack. Joel and Denise set up camp and cooked a salmon dinner while I walked up and down the beach photographing the sunset on the cliffs, waterfalls, and twisted trees.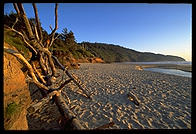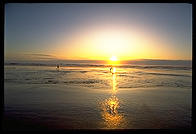 Tuesday, August 17
We woke up to a rare-for-this-area beautiful blue sky. A bit of mist hung between the huge trees of the coastal forest. Denise was in an easy-going, yet perspicacious mood.
"This is the kind of weather that makes some Okie weekend tourist say, `Ma, we found paradise. Sell the farm and let's move up here.' They don't realize that it rains the other 51 weekends a year."
This is one of only two places on the Oregon coast where one can be on the coastal road and not be on packed-with-motor-homes Highway 101. That makes for much more pleasant cycling. We surmounted some good-sized cliffs and were treated to grand views over the water. Pounding surf has carved gaping tunnels in enormous rocks standing in open water. Today's waves crashed and boomed through these holes carved by their forebears. Scenery, sun, headwinds, 1600' of climbing, and 31 miles made us happy to relax on the beach until sunset.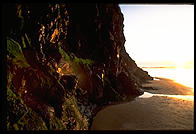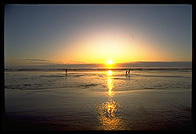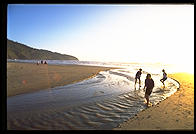 Wednesday, August 18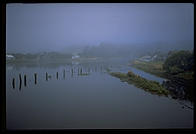 We escaped coastal fog by driving inland to the Columbia River Gorge, drenched in sunlight. Multnomah Falls is a thundering 600' cascade visible from I-84. Joel noted that "this must be a maxima of beauty multiplied by accessibility."
Although moving inland was a good idea, three hours of driving with Denise reduced me to a pathetic state. Denise moved to the front seat, took over my life, and made it hell. She assumed it was her right to control the car temperature, stereo volume and music, and overall noise level by opening her window at 60 mph. It might have been a pleasure to be a gracious host and yield to her, but I wasn't given the chance. She just took everything as her natural due. After asking Denise, "Are you absolutely sure you don't have any Jewish ancestry?" I regretted my earlier expressed stereotype of Jewish girls.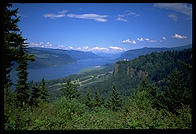 I dropped Denise and Joel at Denise's sister's and wished them a good trip back to California. I was anxious to show my genuine affection for Denise and smooth things over after a sometimes-difficult couple of days.
"It would be less trouble to have married and divorced every woman I've ever met than to spend one afternoon with you in the passenger seat."
Even a week later it was hard for me to imagine having thought and said this; Denise is a treasure.
Despite being given only a few hours of warning, old friends Dwight and Karla welcomed me warmly into their cliffside home in the Portland suburb of Lake Oswego. I had hardly stepped over the threshold when Karla said, "You must have laundry to do; let's start it now." By the time I'd begun to consume the delicious salmon barbecue they'd prepared, all the tension of the previous two days melted away. I'd remembered 8-year-old Emily as the world's sweetest child, always ready with a kind word or deed even for her frighteningly violent younger brother. Thirteen-year-old Emily was just as charming but she shocked me by challenging her father. She showed signs of becoming almost as scornful of parental wisdom as I had been. Little Brother was off at camp so I couldn't see whether or not his testosterone-poisoning had abated. Emily's saintly tolerance hadn't persisted, though.
"There are many days when I don't speak a word to Harlan."
Thursday, August 19
Suburban America can lead to distressing contentment, self-satisfaction, and complacency. However, if you really want to relax for a day, there is no better place to spend it than inside a lovingly organized suburban homestead. Emily and I had the house to ourselves: stocked kitchen, three comfortable living rooms with interesting art on the walls, ample office and recreation supplies, pool, hot tub, view out to the coastal mountain range. We spent most of the day going through 50 rolls of slides for a Yellowstone-through-Seattle slide show. After eight hours, bears, mountains, people, and cities all looked exactly the same.
Friday, August 20
Two days with Dwight, Emily, and Karla left me feeling warm and completely refreshed. It felt as though I'd been comfortably at home and today was the first day of a new trip.
If my friends weren't enough, going to the Lake Oswego post office was actually a life-affirming experience. Not only was the last machine-gun massacre a distant memory, but customers and clerks were so happy to see each other that it was almost a party. The local Schwinn dealer was scarcely less friendly, replacing a few rattled-off pieces of my bike for free.
My heart went thump as I got onto Interstate 84 East. This was the beginning of my return to Boston. Just as I had become perfectly adapted to life on the road, I was headed home. Three weeks remained to me. It seemed cruelly short and made me wonder.
What can a person possibly see in just three weeks?
---

Chapter XV: Portland to the Promised Land

Table of Contents
---
philg@mit.edu
Related Links
Add a comment | Add a link