Samsung Epic 4G (part of the Galaxy family)

a long-term test by Philip Greenspun, February 2011
---
This report is based on several months of using a Samsung Epic 4G
with Sprint wireless service. The phone was running Android 2.1. The photos and videos in this review are taken with the phone, not of the phone. Visit the Samsung Web site for images of the phone itself.
World's most beautiful display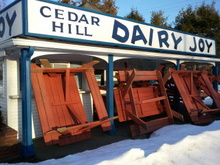 The 800x480 pixel Organic LED display on the Samsung Galaxy phones, including the Epic 4G, is so much more attractive than the conventional LCD displays to which we are accustomed that you'll want to use it all the time just to admire the jewel-like beauty of a photo, a video, or even simply the icons and interface.

Why does the display look so great, especially indoors? A big part of it is the contrast. On an LCD display, black is "however much remains after we try to block as much as possible of the backlight". On an OLED display, black is "off" and therefore is "whatever ambient light reflects off the front of the phone".

To conserve battery power, the display never actually gets as bright as a lot of LCDs, e.g., the Droid 2 or iPhone 4. The LCDs are therefore more readable in bright sunlight.

Phone works great when coverage is strong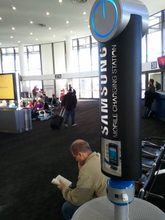 If you can resist draining the battery by admiring the display, the Epic 4G's battery can just barely last through a day of checking email and making a few phone calls if and only if you're in an area with good coverage. In a rural or otherwise poorly covered area, the phone exhausts its battery within just a few hours trying to boost its radio output.

If your home or office has weak coverage and you can't live without the Epic 4G, it will be worthwhile to invest in a Sprint nano-cell or "range extender" such as the Sprint Airave
that will back-haul conversations via your home or office Internet connection. A wireless repeater that would also work.
Can something this beautiful be durable?
The phone survived drops onto concrete, moisture, and being carried around in a pants pocket with keys, change, etc.
For email
The combination of touch screen and slide-out keyboard is much more successful than on the Motorola Droid 2. Something about the Samsung mechanical makes it easy to separate the touch screen and keyboard without inadvertently pressing a "delete" or "archive" button on the touch screen.

Another great thing about the Samsung keyboard is that it has a full five rows of keys, including a dedicated row of numbers. I also like the fact that the keyboard conveniently replicates the "menu", "home", "back", and "search" buttons from the front of the phone.

It is sad that there wasn't room for a second shift key and also that the keys are so flat. When I compared myself to the guy typing on an iPhone in this speed test video, I clocked in at about 27 seconds, i.e., 4 seconds slower than the iPhone expert (the same phrase took me 7 seconds to type on Microsoft Natural (desktop) keyboard).
Browsing the Web
Browsing the Web on the Droid 2 works remarkably well. The 854x480 screen resolution is adequate to most tasks, though not competitive with the iPhone 4's 960x640. If links are crowded together on a page, the keyboard arrow and "OK" keys are very helpful for navigating Web browser. The Verizon 3G service has been excellent in a wide range of urban and rural areas across the United States.
Capturing photos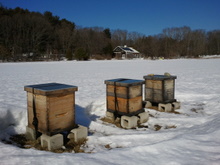 Privacy advocates will be heartened to learn that GPS latitude/longitude coding of images is disabled by default. For someone accustomed to using conventional digital cameras, such as the Canon EOS series, the camera controls seem more logical and require fewer clicks than on other Android phones, e.g., the Droid 2. (This may reflect Samsung's experience as a manufacturer of a range of high quality cameras; note that in 1995 Samsung acquired Rollei, one of the world's oldest and most distinguished camera manufacturers.)

The 5-megapixel camera is located in the center-side of the back of the phone, much more likely to be out of the way of fingers than a camera in the corner of the case (e.g., iPhone 4, Droid 2). Remember that high resolution and a tiny sensor can work well in bright sunlight, but photos taken near dusk will be extremely noisy: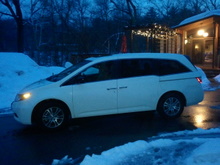 [See the full range of photo examples below.]
Capturing video
Video capture works well. If your subjects aren't making sufficiently interesting sounds, the Android 2.1 operating system may helpfully add the sound of an email alert to your video soundtrack: example.
Video and the Brave New World of 4G
Why would you want to use the Sprint 4G system? Android has a very convenient interface for uploading a just-captured video to YouTube. However, it isn't practical to use on a 3G network. Wouldn't it be wonderful to have a 4G phone, make movies, and immediately upload them to YouTube? The Android software makes this very convenient, providing a "share" option and defaulting to use your Gmail account on YouTube. Unfortunately, even when connected via 4G, the phone says "waiting to upload until WiFi is available".

What good is 4G then? You can watch high quality streaming video from sites including YouTube.
Navigation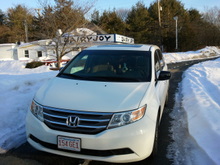 The Epic 4G gives you a choice between Sprint Navigation (Telenav) and the standard Android Google Maps. The Sprint Navigation system is very similar to a portable dedicated GPS or one of the $2000 factory navigation systems from a car manufacturer. One of my most depressing experiences ever with a computing device occurred using Sprint Navigation at the Orange County Airport. I typed in my cousin's address in Los Angeles and the program calculated that it would take 57 minutes to get there. Then it said "checking traffic information" and recalculated the time as 3 hours. It took me about 2 hours and 55 minutes. Maybe we would be happier if computers did not tell us what our life was going to be like.

Google Maps is included and does all of the things you'd expect, including shockingly smart voice recognition of destinations.

With either program the GPS reception was rock-solid, with the phone on my lap or in between the front seats.
Car Dock
If you upgrade the Epic 4G to Android 2.2, as soon as you place the phone in the the Samsung Navigation Car Mount
, it will automatically launch the CarDock app with its simplified big-button interface.

Playing Music
To use the Epic 4G as an MP3 player, plug the phone into your computer via USB. If not already there, create a top-level folder called "Music", then copy the albums you want into the folder. Neither iTunes nor Windows Media Player will recognize an Android phone as a music playing "device". If you prefer to transfer your music via a similar interface, try doubletwist.com.

The phone has a standard 3.5mm headphone jack (same size as Walkmen, iPods, etc.) and also can stream music via Bluetooth to a car or headset (I've had good luck with the Sony DRBT50
).
Alarm Clock
The standard Android alarm clock works well on the Epic 4G, giving an audible alert even if the phone was set to "silent".
International use
When traveling with the Epic 4G, you won't have to worry about high international roaming charges. That's because the Epic 4G cannot communicate with the GSM towers that prevail in the rest of the world. So you'll be buying a local pre-paid SIM card and sticking it into a basic phone.
Cost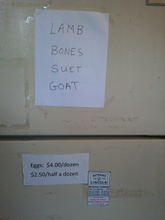 As of March 2011, the phone is $200 with a two-year service commitment. Sprint's published rates are competitive with other carriers: about $70 per month for unlimited data and some voice minutes; about $100 for unlimited everything. Sprint has an additional $10/month "data package" charge for smartphones, so add $10 to the prices that you see quoted. There is no extra charge for using 4G versus 3G, however.
Conclusion
A jewel of a phone with a better-than-average digital camera interface and a larger-than-average comprehensive physical keyboard. Full 4G capability for video uploading and downloading. The battery is quickly exhausted, however, if you are in an area of weak coverage and do not establish a nano-cell.

The Epic 4G is a great example for why smartphones, like laptop computers, should come in at least two different versions from the factory: standard (light and impressive in stores), useful (with 3X the battery life). There are third-party companies that sell bigger batteries for phones, but the mechanical integrity of the case is compromised.

If you must have the world's most advanced mobile phone, the Epic 4G should be on your short-list.
More
Photo Examples
All of these thumbnails link to the original unedited photos that came out of the phone.

The image processing system does a remarkably good job with high-contrast scenes, retaining good detail in highlights and shadows: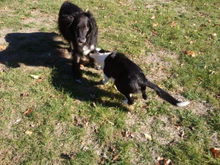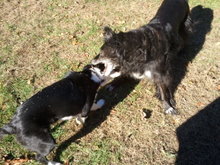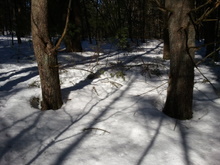 You will need to manually add +1 f-stop of exposure when taking photos in the snow: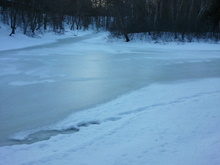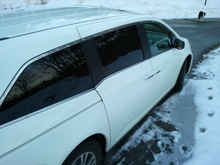 Depth of field is good, thanks to the small sensor and therefore short focal length lens: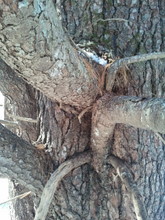 Some late-afternoon example photos at a local farm: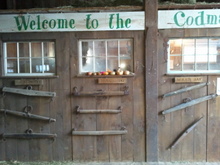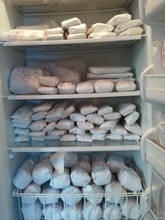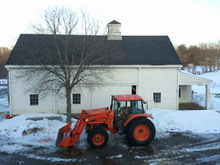 ---
Text and photos copyright 2010-2011 Philip Greenspun.
---
philg@mit.edu
Reader's Comments
Nicely presented information in this post, I prefer to read this kind of stuff. The quality of content is fine and the conclusion is good. Thanks for the post. <a href="http://www.clickindia.com/search.php?q=samsung+cdma+mobiles" rel="follow" rel="nofollow">samsung cdma mobile</a>

-- Babita Tiwari, April 22, 2011
I've just retired my Epic 4g after a bit over two years of use, and can confirm your review is quite accurate and insightful. Other than one glitch with Sprint's technical support not believing me that my account needed to be re-provisioned, I really enjoyed my Epic. I am slowly warming up to it's replacement, a Galaxy S III, since I knew I would miss the great physical keyboard. As a long-time admirer, I got a tiny bit of a buzz knowing you had the same phone!

-- Earl Daniels, July 17, 2012
Wenn Hermes Handtasche Generationen ı#59346;ııberqueren kann, wissen Sie, Sie haben eine große Tasche auf Ihre Hände. Ja, es wird Sie wieder ein wenig, aber da diese Tasche den Test der Zeit bestehen wird, denke ich, ist es eine lohnende Investition. http://www.hermesmode.com/ taschen von hermes

-- Shila Tang, November 26, 2012
Add a comment
Related Links
Add a link