The Flight Level 005 Prize for Young Aviators
Site Home : Flying : One Article

---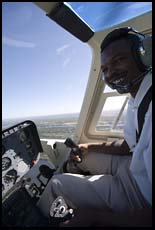 The Flight Level 005 Prize encourages young people interested in aviation. Up to 20 people can receive the Prize in any one year. Recipients of the award will receive the following:
a one-hour introductory hands-on-the-controls helicopter lesson
an introductory airplane flight (possibly with some time on the controls)
ground school
tours of a variety of aviation facilities and businesses, including an air traffic control tower, a flight school, a charter operation, and a maintenance shop
information on career possibilities in aviation and advice from successful pilots, mechanics, and business owners
awards dinner with local pilots and experts
The Prize will be awarded during a weekend at Hanscom Field (KBED).
Eligibility
Applicants for the Prize should be between the ages of 12 and 18 years old on the date of the awards dinner (see Schedule below). The Prize is open to young people living in any part of the world.
The Helicopters
Prize winners will be flying in either a Robinson R44 helicopter or a Robinson R22. These are the world's best-selling helicopters right now, with about 800 coming off the assembly line in Torrance, California every year.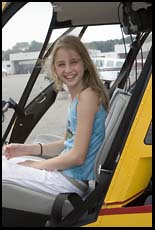 Who does the flying?
You do! You will learn how to start up and test the machine. One of our experienced instructors will handle lifting the helicopter into a hover and taking off from Hanscom Field. The instructor will give you the controls one at a time while the helicopter is in mid-air. Upon returning back to the airport, you will begin to learn to hold the helicopter in a hover, taking first the pedals, then the collective and pedals, and finally all three controls (this is where things often get interesting).

Depending on which airplane you're flying and with whom, you may get some "stick time" on your airplane flight.
How to Apply
The Prize was established to encourage young people to learn about aviation, which includes learning the following: some basic physics and mathematics, aerodynamics, federal aviation regulations, radio communications, and how airports are organized.

The Prize will be awarded to young people who take the initiative to educate themselves to the level that we expect of helicopter students going through a self-study ground school program at East Coast Aero Club. Nearly all of the required materials are available free online.

The successful applicant will have read the following publications:

[Note that these constitute substantially all of the ground study that you would have to do in order to earn a Private Pilot Certificate.]

After reading the section on radio communications in the Aeronautical Information Manual, you should have listened to Hanscom Tower on liveatc.net and be prepared to work with air traffic control by talking on the radio.

You should be able to answer most of the questions from the Private Pilot Airmen Knowledge Test Questions (visit http://www.faa.gov/education_research/testing/airmen/test_questions/ and click on "Private").

When you think that you are ready to apply, please email philg@mit.edu to request the written examinations that we use for our helicopter students. Once you return the exams to him (typewritten or handwritten answers are okay, but if you write by hand, please scan and email), he will contact you to ask some additional questions. He may also ask you to write a one-page essay on the topic of "Why I am interested in aviation."
Schedule
For 2008, the Prizes will be awarded on Saturday, June 21.
Friday afternoon (June 20, 2008): tour of Linear Air charter operation and East Coast Aero Club maintenance facility
Friday evening: group dinner and introductions
Saturday morning: SFAR 73 ground awareness training, helicopter aerodynamics discussion
Saturday afternoon: helicopter and airplane flights begin and continue through Sunday afternoon
Saturday afternoon: tour Hanscom Field control tower tour
Saturday evening: awards dinner
Sunday morning: tour East Coast Aero Club flight school
Sunday afternoon: tour Jet Aviation fixed-based operator (FBO)
Award winners, if not living in the Boston area, are responsible for getting themselves to Hanscom Field and for lodging expenses, if any. We provide lunch and dinner every day.
Can I Bring My Mom?
Your parents are welcome at the dinners (at a separate table!) and in the classroom. There won't be enough space for them on most of the tours. Our insurance does not allow passengers in the back seat of the R44 helicopter during flight instruction, so they will have to stay on the ground unless they want to book a flying lesson with one of the two flight schools at Hanscom Field (we have 40 rental aircraft and more than 50 instructors at the airport).
Should I Prepare With A Simulator?
Desktop flight simulators are a very time-inefficient way to build visual flying proficiency, but they are helpful and don't cost anything to run. People with experience flying helicopters in simulators have a slightly easier time controlling a real helicopter.

Proficiency with radio-controlled (RC) helicopters can be very helpful. Some people who are accomplished RC helicopter pilots can hold a hover in a real helicopter on their first try.

If you are interested in flight simulators or RC helicopters, by all means come prepared with that experience. If not, don't worry because you'll probably catch up very quickly.
Why Learn About Aviation?
Flying will challenge your mind, your emotions, and your coordination skills. Flying will introduce you to some of the world's most interesting and accomplished people. Flying can provide a satisfying career in an industry that has been steadily growing for more than 100 years; it is rare that you can get paid to do something that you love (admittedly you would get paid more to work at a variety of other jobs).

Learning to fly provides a great motivation to learn mathematics and physics.
People
Philip Greenspun, Airline Transport Pilot and Flight Instructor (airplanes and helicopters). Started flying in 2001. Massachusetts Institute of Technology Class of 1982. Used to be a computer programmer, but trying to recover. (more)
Everyone Else
Richard Amster, Airline Transport Pilot. Started flying in 1983. Massachusetts Institute of Technology Class of 1982.

Brett Bethke, Private Pilot with Instrument Rating. Started flying in 2005. Ph.D. student in Aeronautical Engineering at the Massachusetts Institute of Technology.

Paul Cantrell, Airplane Pilot and Helicopter Instructor. Started flying in 1985 and has more than 3200 helicopter hours. Currently the most experienced active helicopter instructor in New England.

Adam Harris, Commercial Pilot and Flight Instructor. Started flying in 1990. Holder of Airframe and Powerplant as well as Inspection Authorization FAA certificates for aircraft maintenance. Head of Maintenance at East Coast Aero Club. With only the tools and parts in the trunk of his car, can fix anything. Anything.

Brad Pretzer, Airline Transport Pilot and Flight Instructor. Started flying in 1992. Day job: flying a Boeing 767 to Japan, Europe, and the Middle East. After hours: Helicopter pilot. Michigan Technological University Class of 1998. (more)

Mike Rhodes, Airline Transport Pilot and Flight Instructor (helicopters and airplanes). Started flying in 1981. Mild-mannered engineer by day.

David Wihl. Private Pilot with Instrument Rating. Started flying in 1986. Founder and CEO of Soft Artisans.
Why?
We're all pilots and/or instructors at Hanscom and we enjoy introducing new people, especially young folks, to the challenges and pleasures of flying. Some of us have seen how math and physics are taught in public schools and thought that there must be a better way to motivate students than saying "you need to learn this so that you can get into a good college."
---
philg@mit.edu